[UPDATED with 12Z Nov. 22 model plots, now putting the storm just offshore.]
I've been watching the setup for what could turn into a white Thanksgiving for much of the Northeast..and maybe a travel nightmare for the day before Thanksgiving.
From what I can tell, the last white Thanksgiving in NYC was about a quarter century ago (in 1989), and before that was a half-century prior to '89. Maybe my friend Joe Bastardi will correct me.
Predicted cold air outbreaks for the Northeast and mid-Atlantic in the coming days, combined with a low pressure system moving across the northern Gulf of Mexico, are consistently combining in the GFS model to produce an early-season nor'easter, with significant snow from the mid-Atlantic up through New England.
From last night's this-morning's GFS run, here's the sea level pressure and 12-hr precip plots for Thanksgiving eve and morning: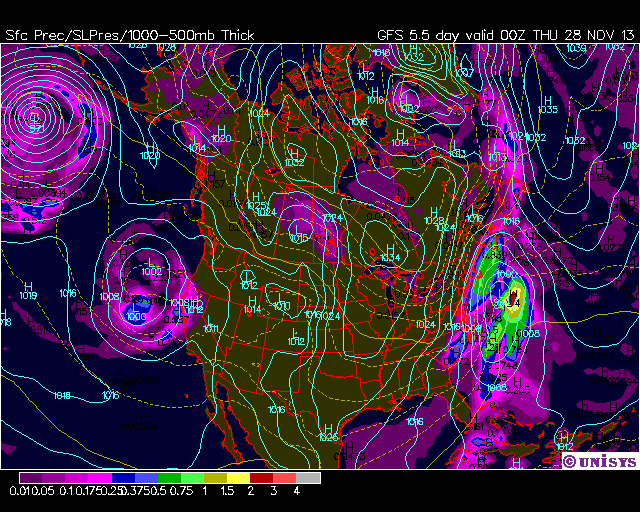 And here are the corresponding 850 mb forecast plots, which also show the cold air mass associated with the system: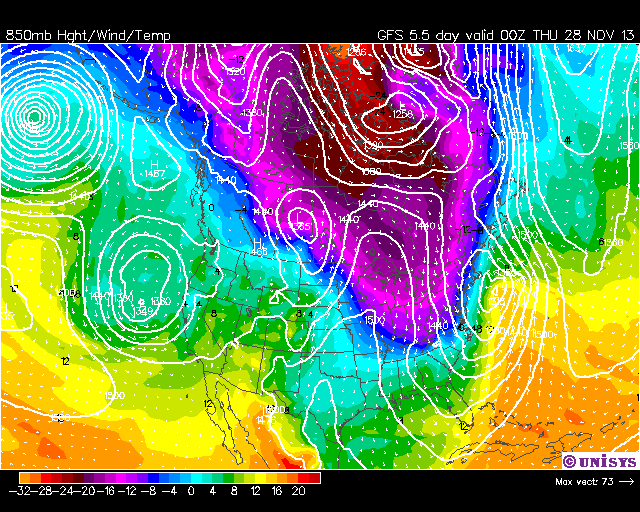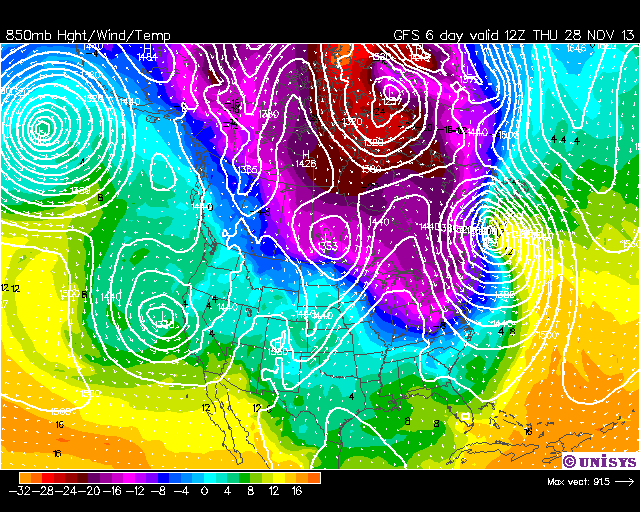 Now, for nor'easters to form and impact the East Coast, timing of the cold air arrival versus the low pressure approach from the southwest is everything.
If cold air arrives a little early, the system remains off the East Coast, with only windy and colder weather for the East. If the cold air is late, the storm moves inland with rain for the East, and snow for the Ohio Valley and eastern Great Lakes. Given this is all a week away, things could change significantly by then.
But those planning on travel to the East Coast for Thanksgiving should keep an eye on this situation in the coming days.
Oh, and if NYC does get hit with significant snow for Thanksgiving….let me be the first to blame global warming for it. 😉