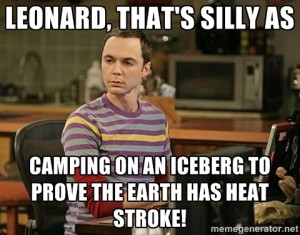 I suppose this was inevitable.
An adventurer who has rowed solo across oceans and jogged a total of 4 lightyears is going to bring attention to global warming (what's that?) by living on a Greenland iceberg for up to a year starting next Spring.
As reported by TreeHugger.com, Alex Bellini, a "professional adventurer" from Italy, will chronicle the melting of the iceberg (which, of course, never happened in summer before humans began burning fossil fuels).
For those new to how high-quality science works, Mr. Bellini explains in his own words (emphasis mine):
"My objective is reporting and investigating, by means of scientific methods, the entire lifetime of an iceberg. I want to prove how the pace of ice-melting has dramatically accelerated over the last decades."
How exactly he is going to do that by sitting on an iceberg as it melts in the summer, which is what icebergs do anyway, remains to be seen.
The sad part is the number of people who will fall for this. Probably including Mr. Bellini himself. Pure publicity stunt, no scientific value whatsoever.
I guarantee you if he does camp out on an iceberg, he will not stay there a year. Greenland winters are brutal.