Update 10:20 a.m. EST Wed. Nov. 19: Local NWS has stated isolated areas on the south side of Buffalo could have received as much as 70 inches of snow. It is very difficult to measure snow accumulations in these conditions. Some vehicles were stranded for many hours, and the National Guard was called in to help. Four Six area deaths have been attributed to the storm. After a brief break today, a new round of lake effect snow is expected in the same area tomorrow. Here's time lapse of the snow squalls coming in off Lake Erie into South Buffalo on Tuesday (iPhone 6 time lapse video by Alfonzo Cutaia):

As predicted, the lee shores of Lake Erie and Lake Ontario are being clobbered by lake effect snow right now.
Here's a photo just posted to Facebook by someone stuck in traffic, obviously sitting under the main snow band coming off Lake Erie:
Already, 2 to 3 feet of snow are being reported, and the storm is expected to continue throughout the day. Local totals to 5 feet or more are possible…it all depends on how long the snow bands stay anchored over one spot.
Here's the advice just posted by NWS Buffalo on their Facebook page:
"Travel within the lake effect band is IMPOSSIBLE, if you attempt to travel through the band you WILL GET STUCK. If you live in the south towns STAY PUT! If you live in the north towns DO NOT try traveling to the south towns."
I'm sure we will be hearing similar stories from the Watertown, NY area (to the lee of Lake Ontario) as the day progresses.
Here is today's NASA MODIS image (Terra satellite) of the region, mostly covered in lake-generated snow shower clouds, with the heavy-snow areas near Buffalo and Watertown marked with red circles (click for full-size):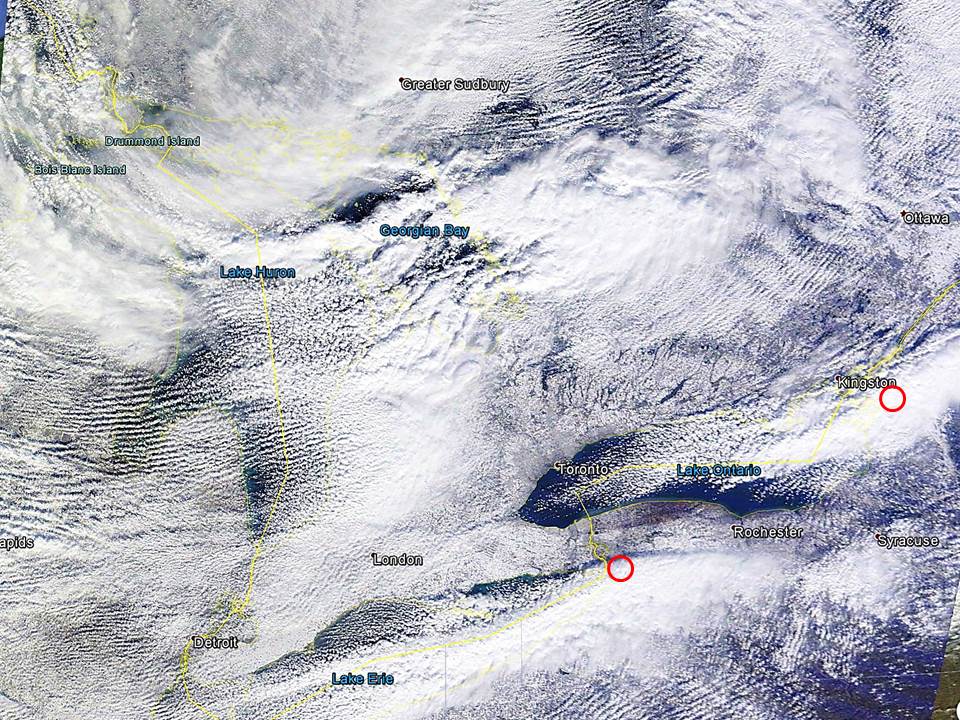 Note that all of the Great Lakes are producing lake effect snow today to the east of the lakes.