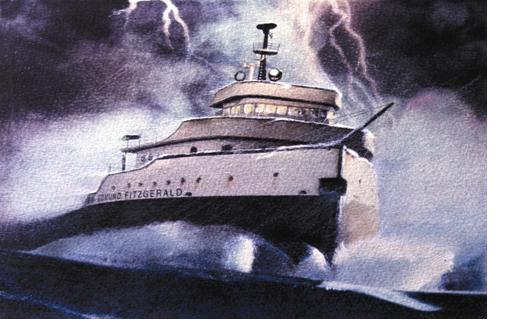 Today is the 40th anniversary of the sinking of the Great Lakes freighter Edmund Fitzgerald, on November 10, 1975, which took all 29 of the crew to the bottom of Lake Superior in 530 ft of water.
The Fitzgerald sank during a gale caused by an intense low pressure passing over Lake Superior. As the low moved east of the lake, unusually strong west to northwest winds caused waves that pushed the limits of what these freighters were designed to handle.
There are three theories of why the ship sank, and they all involve wind-driven waves. It is estimated that winds were gusting to close to 90 mph at the time of sinking, and the nearby Arthur M. Anderson reported being hit by rogue waves as high as 35 ft.
I lived on the lower St. Mary's River which flows out of Lake Superior, and all freighters passed a few hundred yards in front of our house whether they were up-bound into or down-bound from Lake Superior, so I was familiar with both the Fitzgerald and the Anderson.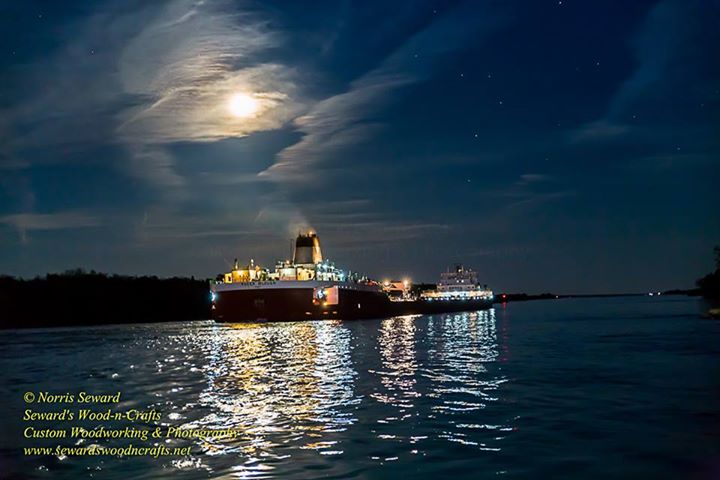 Those of us who lived in eastern Upper Michigan and who saw the passage of lake freighters nearly every day remember what we were doing when we heard the news that evening. In my case, my wife-to-be and I were driving in the dark during the windstorm. I was preparing to be an atmospheric science student at U. of Michigan and, like all meteorology students, if there was bad weather, I wanted to be in it.
We stopped in at the National Weather Service Office in the Sault, where I worked summers and knew all of the employees. One of them was on the phone yelling at the Fitzgerald's operator in Cleveland to "start paying attention to the weather up here!" He then slammed the phone down.
I distinctly remember the weather forecast model prediction for that storm, as I examined the forecast charts in the weather office a day or two before. Unlike the Wikipedia entry characterization, this was not a typical November storm.
The forecast low pressure was unusually intense, and the anticyclonic curvature of the isobars right behind the low suggested there was going to be phenomenal winds just after the low passage.
That's exactly what happened.
The 711 ft. long ship now sits in two pieces on the lake bottom, symbolically straddling the U.S.-Canadian border. The Fitzgerald remains the largest of many ships that have sunk to the bottom of the Great Lakes. Most experts who have studied the sinking have concluded that the ship broke apart on the surface before it went down.
Canadian singer-songwriter Gordon Lightfoot immortalized the sinking with his Grammy Award-winning Wreck of the Edmund Fitzgerald a year later (1976).