Updated 7:30 a.m. EDT Saturday, Oct. 1.
Major Hurricane Matthew was briefly a Category 5 hurricane overnight, the first Cat 5 in the Atlantic in nine years. It now has 155 mph sustained winds, making it a strong Category 4 storm on the Saffir-Simpson scale.
Matthew is over the south-central Caribbean, traveling slowly westward, but a turn to the north is expected on Sunday. Matthew is expected to cross eastern Cuba Tuesday morning and possibly make U.S. landfall somewhere on the East Coast around next Friday or Saturday.
Thursday will mark exactly 4,000 days after Major Hurricane Wilma's landfall.
Hurricane Wilma, the last major hurricane (Cat 3 or stronger) to hit the U.S., struck Florida on October 24, 2005. Will Matthew arrive as the first major hurricane to strike the U.S. in almost 11 years? Only time will tell. (Sandy was Cat 1 at landfall, and technically not a hurricane at that time. Hurricane Ike, 2008, was a Cat 2.)
Here is the latest GFS model forecast for Matthew on midnight Sunday, Oct. 9 (graphics courtesy of Weatherbell.com):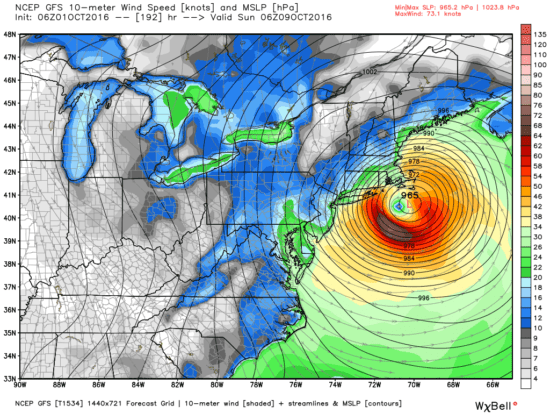 That particular forecast, which remains very uncertain this far in advance, has Matthew making landfall at Cape Hatteras, Cape Cod, and then going inland in Maine. Here is the spread of model forecasts from NOAA's GEFS ensemble forecast system: