(UPDATED 7:25 a.m. EDT Thursday October 6)
Several days ago, it seemed unlikely that Major Hurricane Matthew, now with 125 mph sustained winds, would come close enough to the east coast of Florida to pose a serious threat.
But now many of the recent weather forecast model runs have Matthew possibly hitting the Sunshine State twice, separated by about 4-5 days during which the hurricane does a complete loop and return to the state weaker, probably as a Tropical Storm (model graphic courtesy of WeatherBELL.com):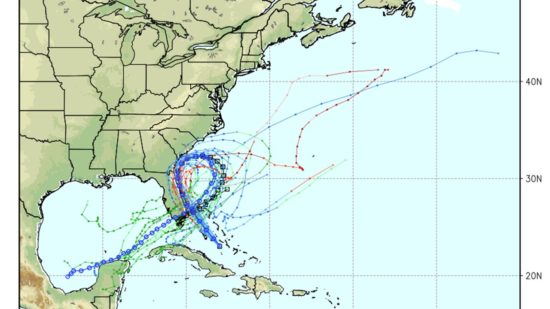 This is a large departure from previous forecasts, and the National Hurricane Center's discussion this morning is still hinting at the new scenario where Matthew does not recurve poleward the way most hurricanes do. It's possible Matthew will then cross Florida and enter the Gulf of Mexico. Such unusual hurricane tracks are particularly difficult to forecast.
Of course, the worst impacts will be along the eastern shore of Florida tonight and Friday as Matthew is supposed to arrive as an historic Category 4 storm, making landfall 4,001 days after the last major hurricane (Cat 3 or stronger) hit the U.S. (Wilma in 2005).
If "Loopy Matthew" hits Florida twice, I suppose it's fitting that it affords Florida coastal residents a chance to hold the longest hurricane party ever.