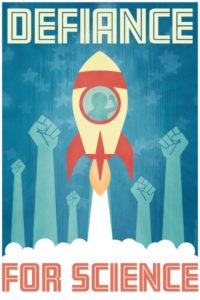 A total of seven shots were fired into our National Space Science and Technology Center (NSSTC) building here at UAH over the weekend.
All bullets hit the 4th floor, which is where John Christy's office is (my office is in another part of the building).
Given that this was Earth Day weekend, with a March for Science passing right past our building on Saturday afternoon, I think this is more than coincidence. When some people cannot argue facts, they resort to violence to get their way. It doesn't matter that we don't "deny global warming"; the fact we disagree with its seriousness and the level of human involvment in warming is enough to send some radicals into a tizzy.
Our street is fairly quiet, so I doubt the shots were fired during Saturday's march here. It was probably late night Saturday or Sunday for the shooter to have a chance of being unnoticed.
Maybe the "March For Science" should have been called the "March To Silence".
Campus and city police say they believe the shots were fired from a passing car, based upon the angle of entry into one of the offices. Shell casings were recovered outside. The closest distance a passing car would have been is 70 yards away.
This is a developing story. I have no other details.
UPDATE: Local news reports that UAH police have classified this as a "random shooting". So, the seven Belgian 5.7 millimeter bullets which hit windows and bricks around John Christy's office from 70 yards away were apparently deemed to be "random" occurrence. (Despite my personal defense training, I probably would have struggled to get that tight a "random" cluster with a semi-automatic pistol.) Nothing to see here, move along.