The power is out here in Huntsville and over much of northern Alabama. Everything is shut down. Only cell phone service is up, and since I have Verizon broadband on my laptop, I'm spend some of my last 40 minutes worth of battery power to update everyone.
As a meteorologist, I must say that yesterday here in North Alabama was simply amazing. Virtually every thunderstorm that formed was rotating, and I hear we had 50 tornadoes just in the Huntsville area and surrounding communities. It lasted all day long. Here's a map of the SPC's storm reports from yesterday…Huntsville is under the big red blob of tornado reports.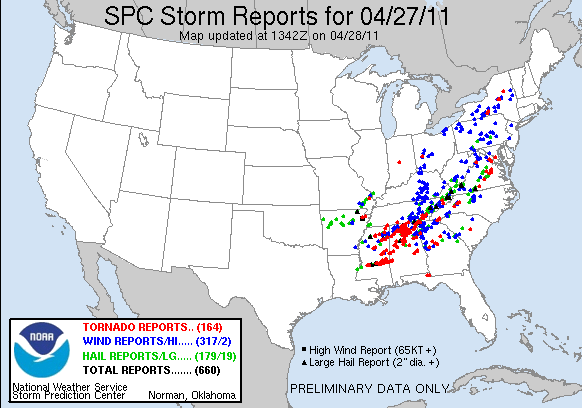 By evening, all the tornado sirens had lost power, one local TV station's weather radar was blown away, and the NWS Hytop radar also went down. There were still tornado warnings, yet there was no way to warn people. Callers into the few radio stations that had backup power were letting people know where the storms were as they arrived.
Late yesterday afternoon I rushed down to a small town just south of Huntsville only a few minutes after a tornado went through. I helped to see if there were people trapped in homes along the road. All the trees were snapped off, one home was entirely gone and the woman who lived there said her husband was in the house at the time. A very large oak tree about three feet in diameter was snapped off at the trunk. The large metal utility poles that are pretty weather proof were also snapped off.
I drove to Athens early this morning because my car was on empty and I heard they still had power. Along the way on I65 there were emergency crews helping to offload gasoline from an overturned tanker truck that got caught in one of the tornadoes. This was near Browns Ferry nuclear power plant, which is now shut down after the 500 kV lines out of the plant were taken out, probably by the same tornado. That damage path was quite wide, about a half mile.
They are saying maybe 4 or 5 days before power is restored here, since those lines feed Huntsville. Please pray for those who were not as lucky as me and my family.