Now that winter has officially ended, I thought it would be useful to address the central role that Russia played in ending California's drought, as well as in the unusually warm conditions over the eastern U.S. this past winter.
First, let's address the record California rains and mountain snowpack. While such a wet winter usually requires a strong El Nino, we had just the opposite — a weak La Nina.
So, what happened?
California: The "Atmospheric River" Doesn't Explain It
Blaming the wet winter in California on the "atmospheric river" effect is, in my professional opinion, rather lame. It's like blaming a flash flood on "too much water". Well, duh.
So, what caused the atmospheric river?
A persistent series of extratropical storms (low pressure systems) coming into California.
But what caused the storms?
An enhanced temperature contrast between the tropics and mid-latitudes, always required for the formation of such low pressure systems.
But what caused the enhanced temperature contrast?
It wasn't El Nino, the usual culprit in stormy California winters, because we had the opposite — La Nina.
It was because our winter was hacked by the Russians
It all started back in October, 2016. (Before the election! A coincidence? I think not.)
October experienced an unusually rapid buildup of the cold season air mass in Siberia, as seen in this temperature departure-from-normal map (all maps courtesy of Weatherbell.com):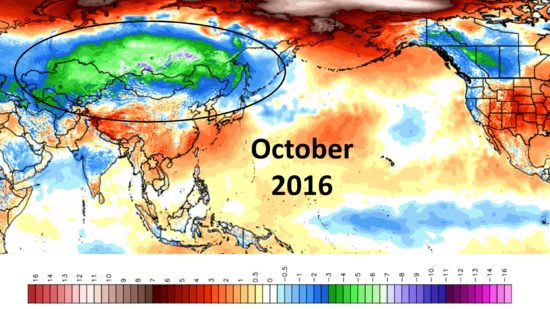 By November, those unseasonably cold air masses were traveling across the North Pacific, cooling the upper layers of the ocean, and turning the previous Warm Blob of sea surface temperatures into a Cold Blob: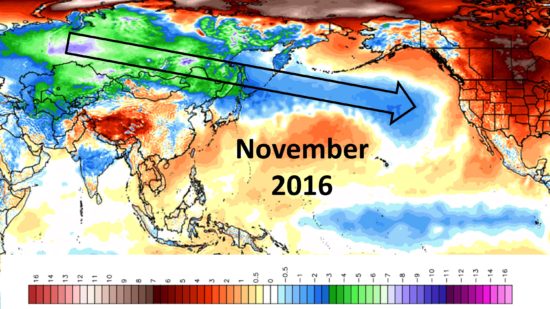 This set up a stronger-than-normal temperature contrast zone ("baroclinic zone" to us meteorologists), which is what's necessary for extra-tropical storm formation. The temperature departures from normal for the winter months of Dec-Jan-Feb reveal the persistence of this feature, which then led to repeated formation of low pressure systems and the warm, moist flow of air out ahead of those lows as they tracked eastward: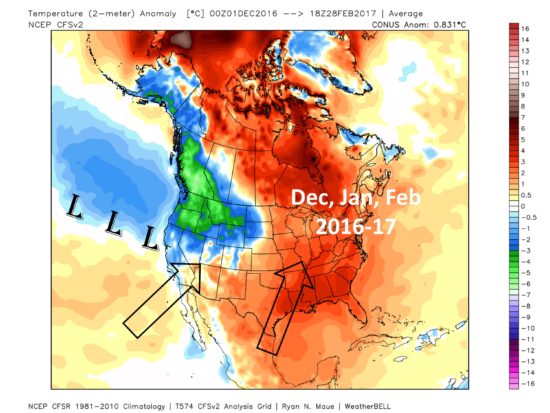 The unusual warmth of the eastern U.S. was likely the result of this chain of events as well. The process has now ended, but not before the cherry blossoms in D.C. were fooled into coming out early, and then the Canadians with their own flavor of frigid air swooped in and ruined everything about a week ago.
So, I suggest it's time for congressional inquiries into the pre-election Russian hacking of our winter weather.