Will Google down-rank Reuters for spreading fake climate news?
I spoke at Heartland's America First Energy Conference, held in New Orleans on Tuesday, August 7, 2018. A young Reuters reporter was there, who asked me before I spoke to tell him what I was going to say.
I simply replied, why don't you come and listen to my talk to find out?
The result was a news story with this headline: Sea level rise 'overblown,' solar energy 'dumb,' climate change deniers tell forum
"Climate change deniers"? Really? This is what passes for responsible journalism today?
As readers here know, I don't deny climate change. I doubt any in attendance deny climate change.
I don't even deny recent warming could be mostly human-caused.
The following photo of me speaking had the caption (emphasis added):
Roy Spencer, principal research scientist at the University of Alabama, said the presence of Trump administration officials at the conference gave a boost to climate change deniers. (Edmund D. Fountain/Reuters)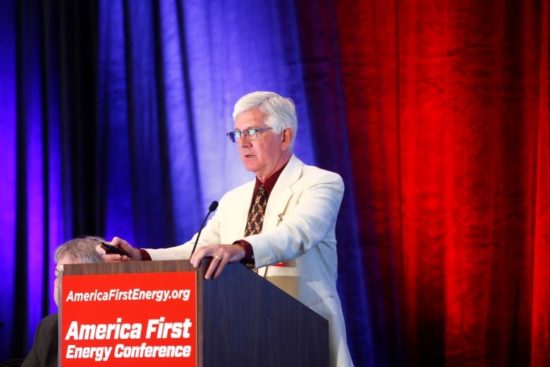 I have no idea what I said that led the reporter to write: "Spencer said…the presence of Trump administration officials at the conference gave a boost to climate change deniers". Where did that come from?
The mainstream news media (MSM) is treading on dangerous ground as Google is now deciding what web content is climate-denying and what isn't. They don't even understand the arguments. There are crappy science arguments being routinely published on the web on both sides of the debate.
About the only climate-related statements I might characterize as unsupported scientific claims would be, "the climate has cooled in recent decades", or "there is no such thing as a greenhouse effect".
But even though I consider those to be demonstrably wrong, I would not support censoring or putting disclaimers on such content. Even the most ridiculous claims (the Earth is flat, the Moon landings were a hoax) should be allowed to be heard and subjected to questioning, and maybe even ridicule.
If such censorship and search engine down-ranking is implemented, will they do the same for the recent "hothouse Earth" claims, which are little more than speculative sci-fi climate porn, with no new science, and totally ignore the most recent evidence that global warming of the oceans and atmosphere over the last century indicate the climate system is twice as resistant to warming as the IPCC claims?
Such hypocrisy is part of the reason why Americans (Canadians, Australians, et al.) are increasingly distrustful of the MSM.