While the wind, storm surge, and freshwater flooding from Category 1 Hurricane Florence will no doubt cause massive damage, we should remember that – historically speaking – major landfalling hurricanes were more frequent in past decades.
Contrary to popular perception, the number of major hurricanes making landfall in the U.S. has dropped by an average of more than 50% since the 1930s: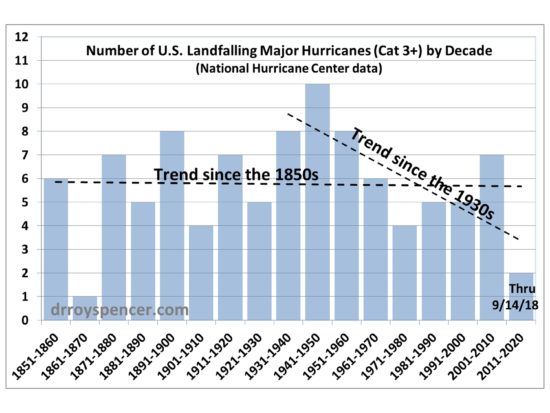 While you might object that the current decade isn't over with yet, if we assume the long-term average of 6 storms per decade continues for the remaining 2.5 hurricane seasons, the downward trend since the 1930s will still be a 50% reduction.
Why did I pick the 1930s as the starting point?
Because yesterday I presented U.S. Government data on the 36 most costly hurricanes in U.S. history, which have all occurred since the 1930s. Since the 1930s, hurricane damages have increased dramatically. But, as Roger Pielke, Jr. has documented, that's due to a huge increase in vulnerable infrastructure in a more populous and more prosperous nation.
It's not due to stronger hurricanes hitting the U.S. or to global warming.