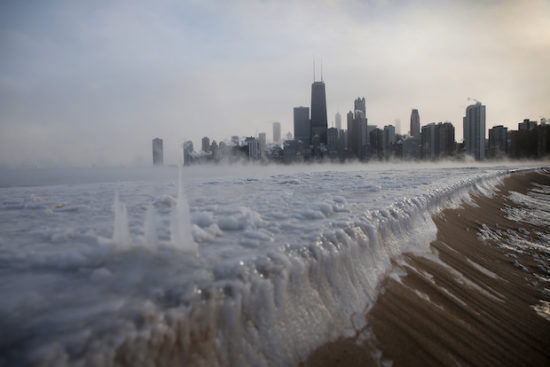 A "Siberian Express" weather disturbance currently crossing the Arctic Ocean will meet up with the semi-permanent winter "polar vortex" over Canada, pushing a record-breaking cold air mass into the Upper Plains and Midwest U.S. by Wednesday.
Chicago All-Time Record Low?
Both the European (ECMWF) and U.S. (GFS) weather forecast models are in agreement that by Wednesday morning temperatures in the Chicago suburbs will be approaching -30 deg. F. The all-time official record low for the Chicago metro area was -27 deg. F (O'Hare) on January 20, 1985, and that 34 year old record could fall as the ECMWF model is forecasting -32 deg. F for Thursday morning while the GFS model is bottoming out at -26 deg. F on Wednesday morning. Of course, these forecasts will change somewhat in the coming days as the cold wave approaches.
Dangerous Wind Chills
Like the record-breaking event of January 1985, the frigid temperatures will be accompanied by strong winds — gusting to 20 to 30 mph — with wind chills plunging to -60 deg. F at times. This is dangerously cold, and I suspect schools will close, water lines will freeze, and travel will be discouraged. Again, this event is still several days away, but the public should be aware of the potential severity of this cold wave.
Not Just Chicago
The GFS forecast temperatures for Wednesday morning shows most of the upper Midwest will be well below zero, and temperatures might not get above -20 deg. F even at midday on Wednesday as far south as northern Indiana. Again, the strong northwest winds will be pushing this air southeast, and Thursday morning will also bring record-breaking cold into the Ohio River Valley.