UPDATE: I've added 6 regional U.S temperature plots, for the Northwest, North Central, Northeast, Southwest, South Central, and Southeast.
Thanks for the comments and suggestions on yesterday's post introducing a new U.S. population-density adjusted temperature (PDAT) dataset. As a result of the comments, I have stratified the U.S. into 6 subregions, and performed station temperature trend vs. population regressions, rather than just lumping all 280 stations together. This should help reduce the effect of any fortuitous (but real) regional warming which just happens to be located where more people live. It should better isolate the true urban heat island (UHI) effect on temperature trends.
The results are shown in the following plot, with the regional regression coefficients listed being the scaling factor between station temperature trend (deg. C/decade) and population density (persons per sq. km) to the 0.2 power (click for high res. version):


As can be seen, 4 of the 6 regions have quite strong dependence of the trends on population density. Only the Southwest U.S. has cooling with increasing population density, which is probably the result of people planting vegetation in what is mostly an arid region to begin with.
The impact of making regional — rather than whole U.S. — population adjustments on the U.S. average temperature variations results in only a slight increase in the resulting temperature trend I posted yesterday, which is still well below that computed from the CRUTem3 dataset (click for high res. version):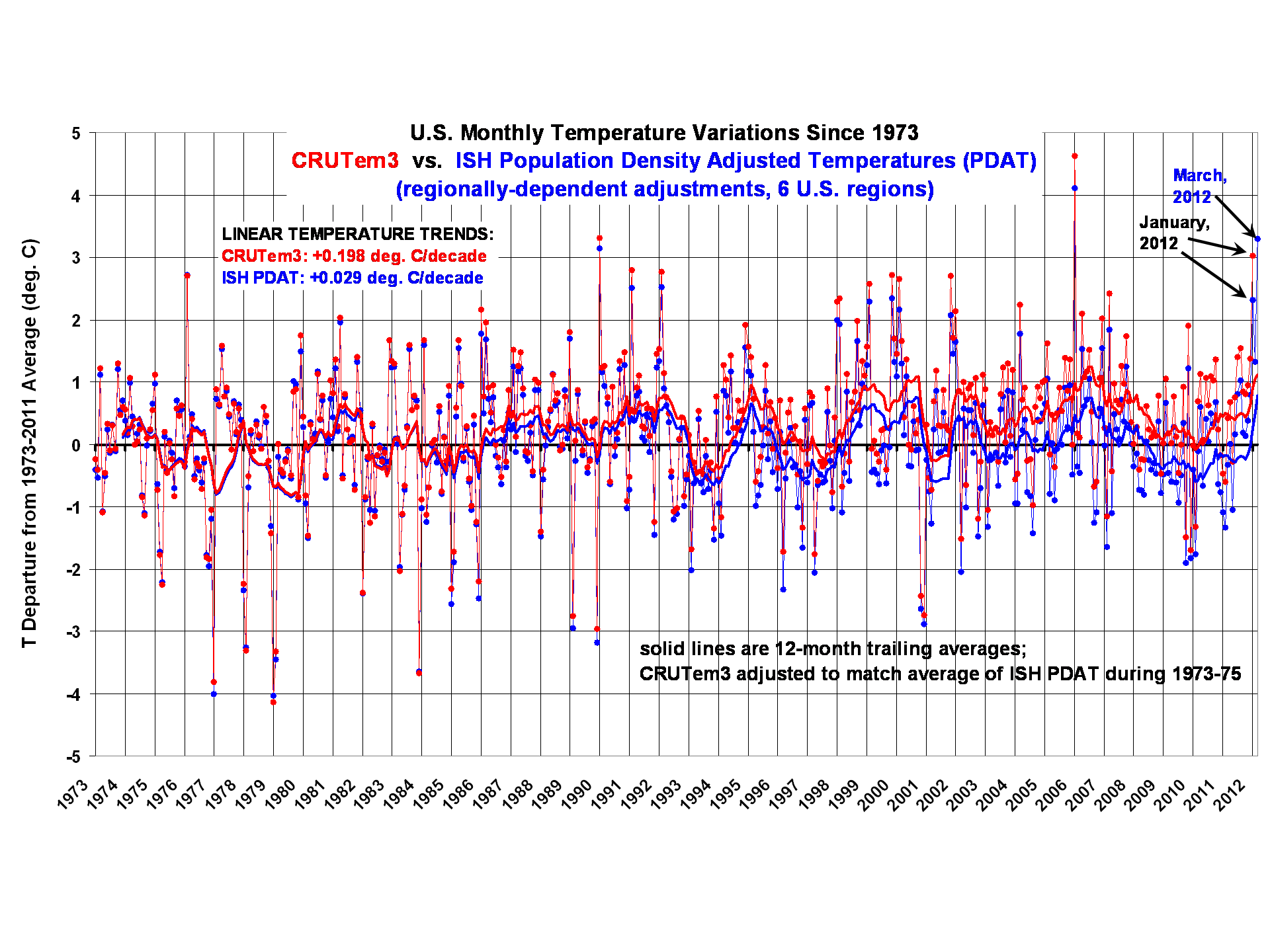 Of course, the regional trends would change substantially, since now I am actually warming the Soutwest U.S. temperatures with time, based upon station population density. But the Southeast U.S. trends will be cooled even more than before, because of the strong relationship between temperature trend and population density found there (see 1st plot, above).
UPDATE: Here are the population-adjusted temperature variations for the 3 northern U.S. sectors, with just the trailing 12-month averages plotted to reduce the messiness: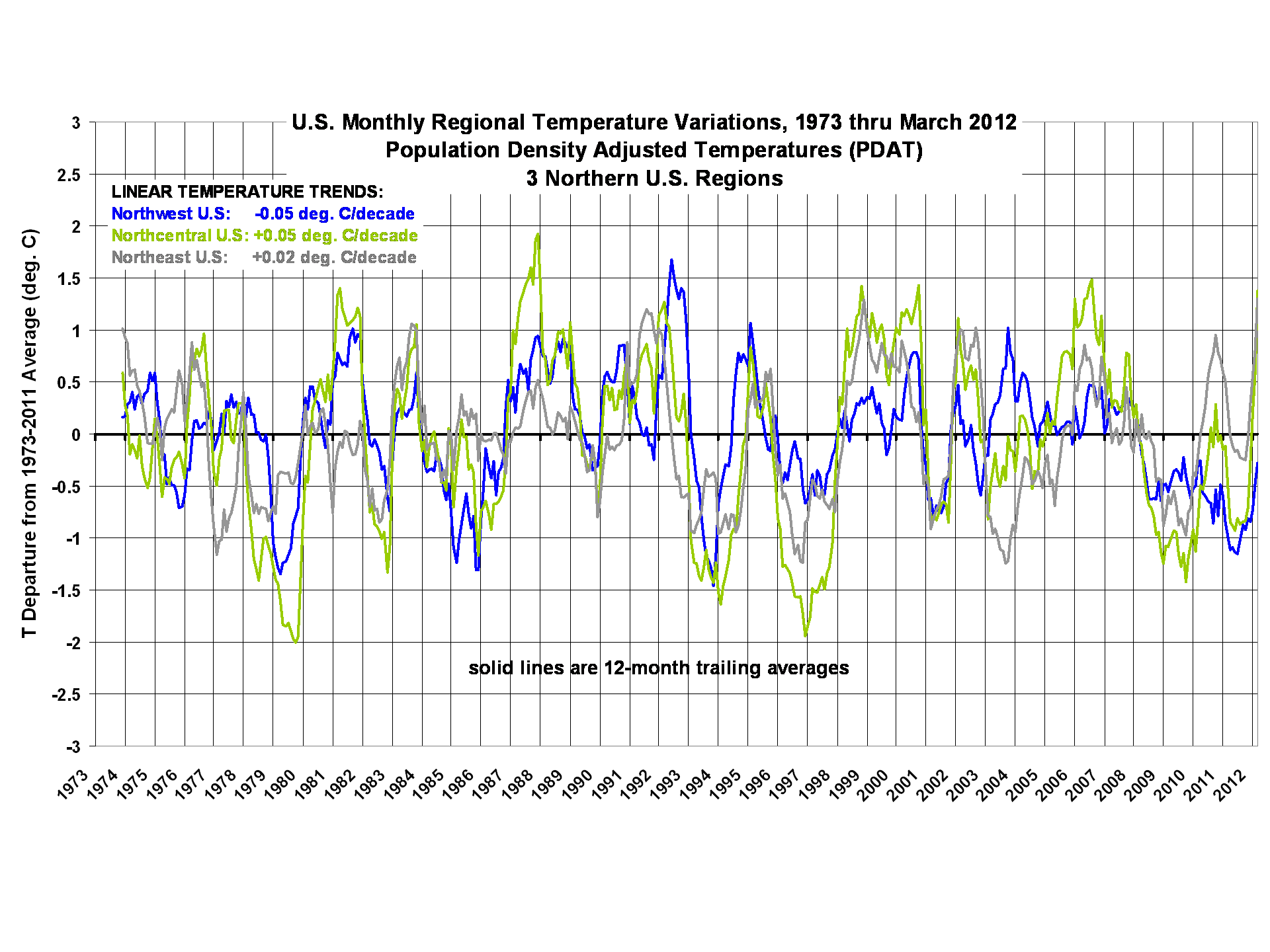 …and here are the 3 southern U.S. sectors: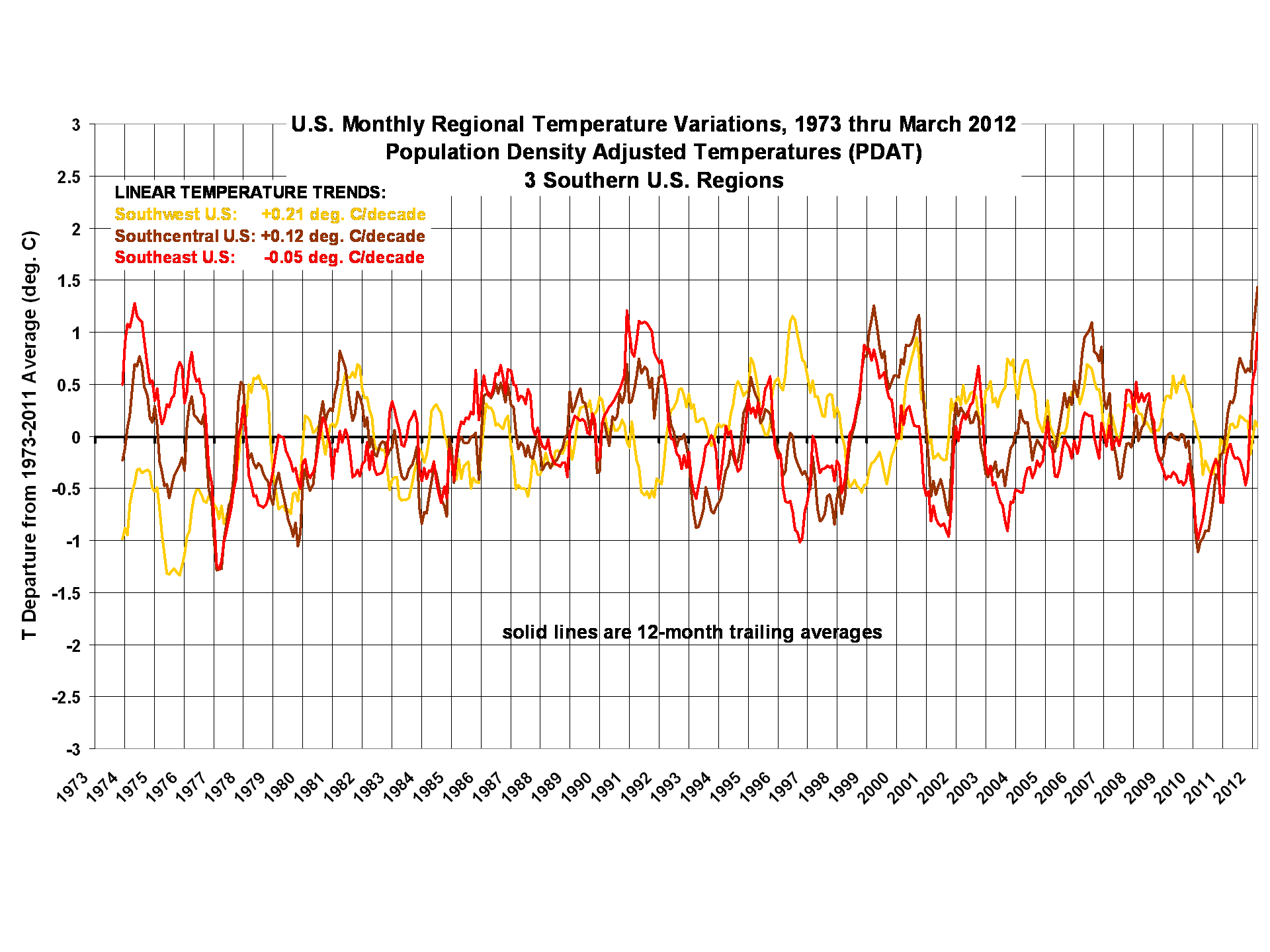 The bottom line is that there is still clear evidence of an urban heat island effect on temperature trends in the U.S. surface station network. Now, I should point out that most of these are not co-op stations, but National Weather Service and FAA stations. How these results might compare to the GHCN network of stations used by NOAA for climate monitoring over the U.SA., I have no idea at this point.
Also, I need to clear up a misconception…the adjustments I perform do not remove the trends in the data. They remove only the component of the trend which is due to population density, using the regression coefficient alone (not the regression constant). There are no adjustments in January 1973 (the beginning of my data record), and then the adjustments increase linearly with time.