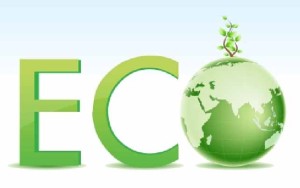 I was watching a Ford commercial last night that highlighted their "EcoBoost" engine technology, which mostly involves turbocharging (nothing new) which allows higher efficiency, and thus greater power output with smaller engine displacements.
That "ecoboost" term sounded familiar, so I went and looked on my washing machine, and found this:

I have no idea what the setting does. I'm pretty sure my washer isn't turbocharged. And it can't mean "less water" because the washer already fails to wash my clothes as it is.
I have to wonder how many marketing meetings are now dominated by discussion of how to work "eco" into new (or existing) products. Everyone wants to Save The Earth™, so if we can do that while we are buying more stuff, so much the better.
So, where did all this ecobabble come from? Well, as I recall the first ecoword was "ecology", which from the Greek root words means "the study of annoying stuff".
We now have eco-friendly eco-schools with eco-learning for eco-kids. Eco-cars, eco-news, eco-warriors, eco-awards. The list goes on eco nauseum.
The eco-trend does not seem to be nearing its eco-end, either. According to Google Trends, the term "eco" has been at an eco-high for several eco-years now.
The annoying part is that little if any eco-good is done with any eco-product, I suspect. History has shown that if we become less wasteful of some commodity, we will find a way to use more of it. As car engines become more fuel-efficient, we buy cars with bigger engines or we take longer drives.
Money we save on one thing ends up getting spent on something else, which inevitably uses more resources.
British company EasyJet has unveiled a new ecoJet technology to improve the energy efficiency of jet travel. I suppose if rocket engines become sufficiently efficient, we will all be taking eco-tourism trips into low Earth orbit.
Just think of how much energy we will be saving then!