The GFS model runs from last night and this morning have shifted the track of Hurricane Joaquin significantly eastward, reducing the possibility of a direct hit on the U.S.
The National Hurricane Center has conservatively adjusted it's official forecast track a little to the east, but their storm discussion drops an important hint:
"It is also possible that Joaquin will remain far from the U.S. east coast."
Here's the latest official forecast track: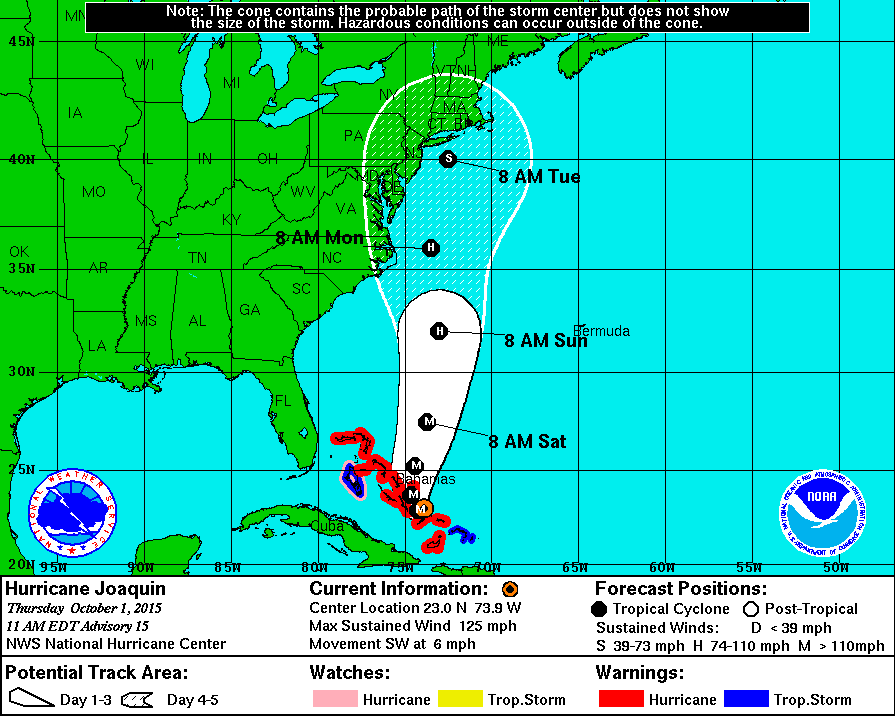 Yet, the very latest GFS model run just in has shifted the storm even farther east, so I suspect we will see the official forecast follow suit this afternoon. Here's the latest GFS forecast position for 2 p.m. Monday afternoon (graphic courtesy of Weatherbell.com):
If that forecast is anywhere close to correct, even Nova Scotia will be spared.
Nevertheless, heavy rains are forecast to continue for the mid-Atlantic states, with excessively large amounts possible in portions of the Carolinas. The latest model run indicates as much as 12-18 inches in South Carolina (!)
None of this is a done deal, however. The longer Joaquin lingers in the Bahamas, the farther east it will likely track as the approaching trough from the west picks it up. But if it decides to head north a little early, it could still hit as far south as the Carolinas. So, the forecast remains unusually risky at this point, and the NHC (and the NWS in general) must always err on the side of caution.
What I find a little ironic is that if this storm were to hit the East Coast, we would have to suffer through endless claims of "climate change!". Yet if it stays at sea, no one complains.
It's the same storm, folks, no matter what track it takes.